The Binh Son Petrochemical Company will halt production at the Dung Quat Oil Refinery in the Central province of Quang Ngai beginning March 23 for scheduled checks.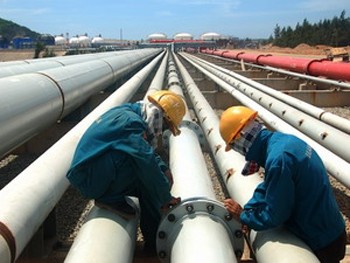 Workers examine pipes at the Dung Quat Oil Refinery in Quang Ngai (Photo: VNA)
Nguyen Hoai Giang, the company general director said that the scheduled checks will allow the contractor Technip Consortium to examine the entire plant as per plans from July to September this year.
This will enable the company to place orders for accessories and materials which will be needed to replace broken-down equipment found during the checks.
The production halt is expected to last from 2-3 weeks and is a very important and essential stop.
As of March 20, the Dung Quat Oil Refinery has imported 124 shipments of crude oil, about 9.7 million tons. Of these, 116 shipments were from Bach Ho oil fields southeast of the Southern province of Vung Tau, seven from Malaysia and one from Azerbaijan. 
The plant has produced and sold 8.5 million tons of different types of gasoline including over 90,000 tons of polypropylene.