The Dung Quat Refinery Plant will remain shut for the next two months starting mid July for maintenance work, informed Binh Son, refinery operator of the Petrochemical Company.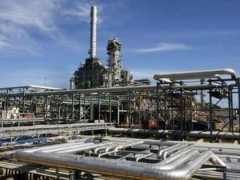 A general view of Dung Quat oil refinery plant in Vietnam's central Quang Ngai province in this February 22, 2009. (Photo: Reuters)
As per schedule, the US$3 billion facility will temporarily remain shut from mid July to mid September for its first scheduled maintenance work to be executed by international and local engineers and experts.
The plant has been running at 105 percent of its capacity to produce about 1,000 tons of petroleum products worth VND20 billion (US$ 1 million) per day to meet demands in the domestic market.
 
The plant has so far produced 10 million tons of oil products and exported over 9 million tons of the same, with turnover of more than VND160, 000 billion (US$8 billion).