The ongoing East Sea dispute between Vietnam and China is an impetus for Vietnamese to prioritize consumption of domestically made products, said Mr. Do Thang Hai, Deputy Minister of Industry and Trade during a press conference on June 2.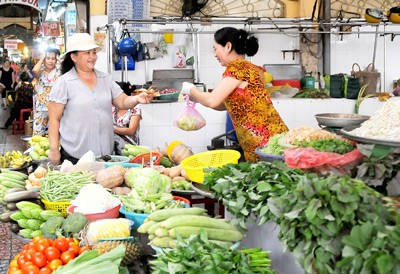 A stall of domestic vegetables coming under VietGap quality standard, Ben Thanh Market, HCMC (Photo: SGGP)
Hai said that in order to narrow the trade deficit with China, Vietnam needs to increase exports and reduce imports.
The growth rate of Vietnamese goods touched 28.4 percent in the first four months this year, showing that several domestic products have been able to compete with Chinese goods, Hai added.
"In addition, the campaign 'Vietnamese prioritize consumption of Vietnamese goods' is launching to be drastically implemented to take advantage of the 90 million people market", he said.
Vietnam is consuming several products that are to meet with requirements from the US and EU markets.
China's oil rig placing on Vietnam's continental shelf in May has prompted Vietnamese businesses and authorized agencies' determination to implement the campaign.
Consumption of Vietnamese goods is patriotic at this time, Hai concluded.