Vietnamese producers need government assistance to enhance production methods and create environmentally-friendly products for expanding export markets.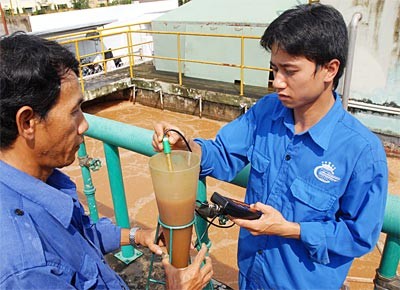 Cholimex staff testing wastewater at a waste treatment site (Photo: SGGP)
Bui Cach Tuyen, head of the Vietnam Environment Administration, said the biggest barrier preventing Vietnamese companies from penetrating the global market was "backward" production technology.
According to the latest study by the Natural Resources and Environment, 80-90 percent of the country's enterprises are using "backward" technology, 76 percent of which was imported in 1950's and 1960's.
These old machines burn lots of fuel, produce a lot of waste, and push costs up, all of which cut profits drastically.
These enterprises' products, especially processed foods and textiles, are not even close to becoming environmentally-friendly products.
On the market, consumers are inclined to use products labeled as eco friendly. They want their goods to have minimal or no detrimental effects on the environment during their production or use.
Therefore, products marked with eco friendly labels are more competitive, particularly on the global market, than their counterparts.
Vo Tan Thanh, director of the HCMC branch of the Vietnam Chamber of Commerce and Industry, said countries have lifted tariff barriers but set up technical barriers to limit imports of technically unqualified products.
For Vietnamese enterprises, the most problematic technical barriers are food hygiene safety and environmental standards, he added.
Mr. Thanh said local consumers were inclined to boycott products made by "blacklisted" enterprises, meaning those whose unsavory methods have been exposed in the media.
Mr. Tuyen said eco friendly production trends have forced enterprises to enhance their production technology, but relevant agencies need to strengthen their management, investigation and punishment of environmental violations.
Reiner Hengstman, global director of Puma Safe Group, said his group has made a huge investment in environmental protection.

An official from Vina Kyoei steel company said his company wants to invest in eco friendly production but the Phu My Industrial Park in Ba Ria-Vung Tau Province has yet to build a waste treatment system.
At present, 50 percent of industrial parks in the country don't have concentrated waste treatment systems.
An official from Nike Vietnam Company said relevant agencies need also to ensure the quality of results produced at inspection laboratories as the data used against companies for violating environmental rules was often inconsistent.
Long An Footwear Company's director said the Ministry of Natural Resources and Environment should ask the Ministry of Science and Technology to issue regulations on classifying waste treatment technologies to create a basis for enterprises to employ consultants for their investment in environmental treatment technology.