Prime Minister Nguyen Tan Dung has asked the planning and investment sector to create an innovative strategy to make 2008 a pivotal point in the nation's path to development.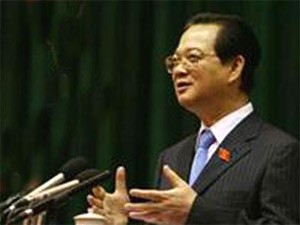 Prime Minister Nguyen Tan Dung
The PM made the request at a national conference of the planning and investment sector held in Ha Noi yesterday in preparation for the implementation of the socio-economic development plan for 2008. 
 
PM Dung said the sector must fulfill the targets of the 2006-2010 five-year socio-economic plan in 2008, so that it could surpass the plan in 2009. 
 
Targets include ensuring the average income is US$960 per capita a year and cutting the number of poor households to 12 percent.
 
The sector's leaders should ensure the growth rate remains steady at 9 percent control inflation, keep the increasing price index lower than GDP, and improve living standards, particularly for the people in remote areas and places hit by natural disasters. 
 
The PM acknowledged the gains made by the sector in 2007, despite the effects of rising global energy prices, epidemics and natural disasters during the year.
 
PM Dung also pointed out limitations that the sector should overcome in the future. These included the quality of the national economy's competitiveness, lagging infrastructure particularly in aviation transport, and overloaded sea port quays. 
 
He asked the sector to speed up administrative reforms and utilize all recourses to attract infrastructure investment.
 
Highway and seaport projects have to be implemented next year.  These include Ha Noi-Hai Phong, Ho Chi Minh City-Long Thanh-Dau Giay, and Trung Luong-Can Tho highways, and Lach Huyen seaport in Hai Phong, he said.
 
PM Dung urged the relevant ministries and agencies, particularly the departments of planning and investment, to advise local authorities on how to lure investment capital both inside and outside the country and effectively use the capital generated.
 
According to a report by the Ministry of Planning and Investment, Viet Nam's economy continued to grow steadily this year, reaching the highest growth rate in the last 10 years.  This growth has actively transformed the country's economic structure.  The economic growth rate is estimated at 8.5 percent in 2007.