The Asian Development Bank said on Friday it is lending almost US$1.1 billion to Viet Nam to build a highway linking Ha Noi with the southern Chinese city of Kunming in what is the biggest single project in ADB's history.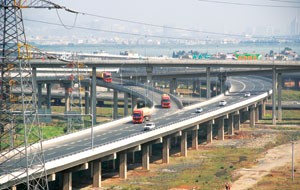 A highway in Kunming
The bank said in a statement that the soft credit would go to financing the US$1.2 billion, 244-kilometer highway that should cut down traveling time between the two cities by one day.
It currently takes two days for passenger cars and three days for trucks.
The new highway is scheduled to open to traffic in 2012.
The credit comprises two loans: a US$200 million low-interest loan from the Asian Development Fund and an interest-free US$896 million loan from ADB's Ordinary Capital Resources, provided under ADB's LIBOR-based lending facility.
The bank said reduced traveling time would allow industries clustered around Ha Noi and Hai Phong to expand into the country's impoverished northwestern region, increasing employment opportunities and social service access for communities along the highway corridor.
The new highway is expected to enhance Viet Nam's ability to export agricultural and maritime products to Yunnan province, and beyond to the huge hinterland markets in southwestern China, according to ADB.
The new road is also expected to expand cross-border tourism between the two countries.
Modern highways would help Vietnam deal with transportation bottlenecks, accelerate economic growth and expand business opportunity, John Cooney, Director of ADB's Southeast Asia Department Infrastructure Division, said in the statement.
"This is particularly important for the northwestern provinces through which the highway will pass. These are among the poorest in Viet Nam, and their poverty is very closely linked to their present lack of access to the thriving economic centers around Ha Noi and Hai Phong," he added.