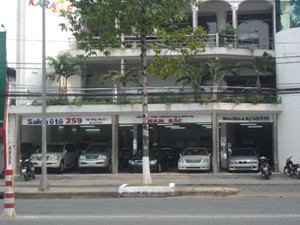 The demand for automobiles has strongly decreased
The Vietnam Automobile Manufacturers Association said auto sales fell to 5,174 units last month, 49 percent down from the same period last year.
Honda Vietnam saw the highest fall of 80 percent to 101 units. Ford Vietnam sold 298 units, down 67 percent, Mercedes-Benz Vietnam sold 103 units, down 60 percent, and Toyota Vietnam sold 1,465 units, down 33 percent.
Carmakers are offering promotions as they try to dispel the gloom: Ford Vietnam has cut prices on all its models except Mondeo by US$ 1,000-5,000, Mercedes-Benz Vietnam is offering a 10 percent discount for its new C-class model, and Truong Hai Auto is offering low interest rates to customers buying on installment plan.
Imported automobiles too have no buyers though dealers have cut their prices sharply.
The price of a Toyota Camry 2.4 imported from the US has dropped to $53,000 from $58,000, just $2,000 higher than those made here, but is still unable to find buyers.