Work on Vietnam's third Viet Nam-Singapore Industrial Park (VSIP) kicked off Tuesday in northern Bac Ninh province.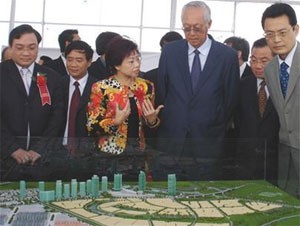 Deputy Minister Hoang Trung Hai (1st, L) and Singaporean Senior Minister Goh Chok Tong (4th, L) look at the new VSIP's site model on Dec 11
The project is expected to attract 200 investors and US$2 billion in investment, and generate jobs for 40,000 laborers.

The third VSIP, located in Dinh Bang commune, Tu Son district, about 20 kilometers from Ha Noi, covers 700 hectares, of which 500 hectares are reserved for building an advanced, environment-friendly industrial zone.

The rest are to be developed into an urban area with high-quality trade centers, hotels, supermarkets, schools, houses and office buildings. Notably, land will also be used to build apartments for medium-income residents.

At the ceremony, representatives of investors said there are 15 projects with a combined registered capital totaling US$200 million, of which seven with a combined investment of US$120 million received their licenses on the occasion. Among them, a four-star hotel, an outdoor sports complex, and a supermarket for construction materials and interior décor.

The ground-breaking ceremony was witnessed by Deputy Prime Minister Hoang Trung Hai and Singaporean Senior Minister Goh Chok Tong, who is on a visit to Viet Nam.

Tong expressed his belief in the third VSIP's future growth and affirmed Singapore's willingness to share its development experiences with Viet Nam to fortify the two countries' cooperation.

The VSIP project, an initiative of Vietnamese former PM Vo Van Kiet and Goh Chok Tong, was first launched in Viet Nam in January 1996.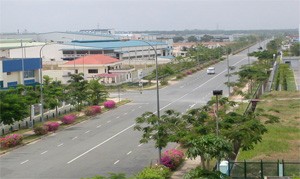 The first Viet Nam-Singapore Industrial Zone (VSIP 1) in Binh Duong province
The first VSIP in Binh Duong province, about 17km north of Ho Chi Minh City, spans 500 hectares and is a fully integrated industrial park with a comprehensive range of infrastructure, including power, water, sewerage treatment and telecommunications.

It has attracted 240 projects from 22 countries and territories and over US$1.65 billion in investment capital.

The second VSIP was built in 2006 in Binh Duong's new township, about 32km north of Ho Chi Minh City.

Offering an on-site logistics centre with on-site customs office, VSIP II has attracted 110 projects worth around US$1 billion from 15 countries and territories.

The fourth VSIP is planned to be built in the northern port city of Hai Phong.

The same day, Goh Chok Tong met with Party General Secretary Nong Duc Manh in Ha Noi. The Party leader praised Singapore as Viet Nam's biggest ASEAN investor and affirmed Viet Nam will create even more favorable conditions for Singaporean businesses in Viet Nam.