Business executives and economists met in Ho Chi Minh City yesterday to discuss the possible impacts of the global financial crisis on Viet Nam and ways to minimize them.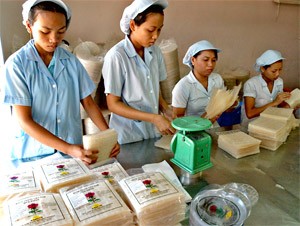 Making rice paper for export at Ut Duoc factory in HCMC's Cu Chi District (Photo: SGGP)
Professor Dao Nguyen Cat, vice chairman of the Vietnam Economic Science Association, said though Viet Nam has yet to fully integrate into the global financial system and has not invested much abroad, its economy would be affected somewhat.

Its exports, which account for 60 percent of GDP, would face difficulties because the US is one of the biggest importers, he said, while the stock market and foreign investment would be volatile.

Financial expert Bui Kien Thanh said LIBOR (London Interbank Offered Rate) and SIBOR (Singapore Interbank Offered Rate) have increased and this is likely to affect short-term loans by Vietnamese commercial banks.

Banks would have to restructure loan tenures and interest rates, and this would aggravate the financial situation of banks and enterprises, he warned.

Mr. Thanh forecast FDI capital coming into Viet Nam to fall because 80 percent of it is raised from loans.

The central bank should issue bonds while feasible projects need to have access to capital, he said.

Proposed measures

Le Duc Thuy, chairman of the National Financial Supervisory Committee (and former State Bank of Viet Nam Governor), said the Government's main task now is preventing economic stagnation.

It needs to adopt a flexible interest rate policy and offer tax breaks to companies.

Vu Thanh Tu Anh, head of research for the US' Fulbright program in Viet Nam, said the Government needs to have an appropriate interest rate policy to boost exports and help exporters increase their competitiveness.

Truong Dinh Tuyen, the former trade minister, said to boost economic growth, the country has to soon address shortcomings in power supply, infrastructure, and labor.

Exporters have to take the initiative to enter markets like Russia, ASEAN, the Middle East, and eastern Europe, Mr. Tuyen said.

Enterprises have to cut costs and prices, and focus on products in demand, he added.