Ho Chi Minh City People's Comittee of Chairman Le Hoang Quan said on June 9 meeting that Vietnamese businesses might face with difficulties in short term in case the bilateral trade between Vietnam and China progresses worse but it will also be the challenge for them to restructure production and expand new markets in medium and long terms.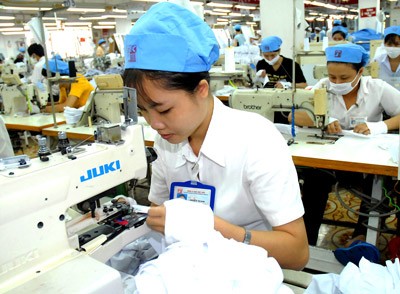 HCMC garment export gradually shifts into several new markets (Photo: SGGP)
Export turnover from HCMC to China reached US$840 million in the first five months this year, down 4.4 percent over the same period last year, according to Le Van Khoa, director of the Department of Industry and Trade.
The main export items include computers, electronic items and components and rice, which the turnover fell 30 percent to reach US$275 million for the three former and dropped 4.6 percent to get $110 million for the later.
Formerly, Vietnam's rice export markets concentrated on the Philippines, China and Indonesia. Exporters are now switching into the US market.
China is the main export market of HCMC fruit and vegetables. Textile and garment exports to this market obtained US$56.2 million, a 76.3 percent year on year increase.
HCMC export turnover might reduce 0.52 percent equivalent to US$160 million in the second half 2014. The year total number is expected to approximate US$30 billion.
About 70 percent of production companies in HCMC are depending on material inputs from China, said Mr. Khoa. However they can import the materials from other markets like South Korea, Japan and Taiwan with 10-15 percent increase in import costs, he said.
Less dependent on Chinese material inputs, more opportunities
Tran Viet Anh, Deputy Head of the Rubber Plastic Manufacturers Association, said that 90 percent of machines and 80 percent of materials in HCMC plastic industry are from China.
Difficulties in the trade between the two countries will create chance for Vietnamese businesses to lessen dependent on Chinese suppliers by boosting domestic material production and innovating production technologies.
Plastic industry will not be much affected, according to Huynh Van Hanh, deputy head of the HCMC Handicraft and Wood Industry Association.
Grown forests supply 50 percent of wood for export companies. The rest 50 percent is mainly from the US and EU. Import from China counts only US$300,000 yearly.
New business strategies needed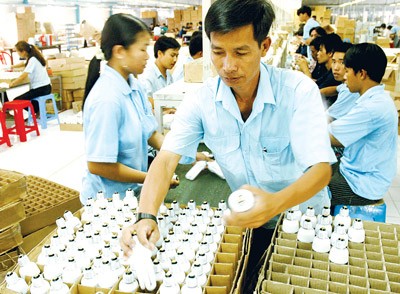 Light bulb production at Dien Quang Company (Photo: SGGP)
The Department of Industry and Trade Head Le Van Khoa advised businesses to draw up new business strategies to fix with the present situation. Exports and imports should not depend on a single market. 
He proposed the state should continue to provide credit incentives to domestically produce materials for the textile and garment industry and develop support industry in industrial zones.
Chairman Quan instructed taxation and customs agencies to study tax exemption and reduction and other preferential policies for businesses to import advanced equipment for their long-term projects.