The Prime Minister has approved a project to upgrade and broaden Dung Quat oil refinery in the central province of Quang Ngai that is facing with challenges from material shortage and imminent competitiveness from other refinery projects in the central region.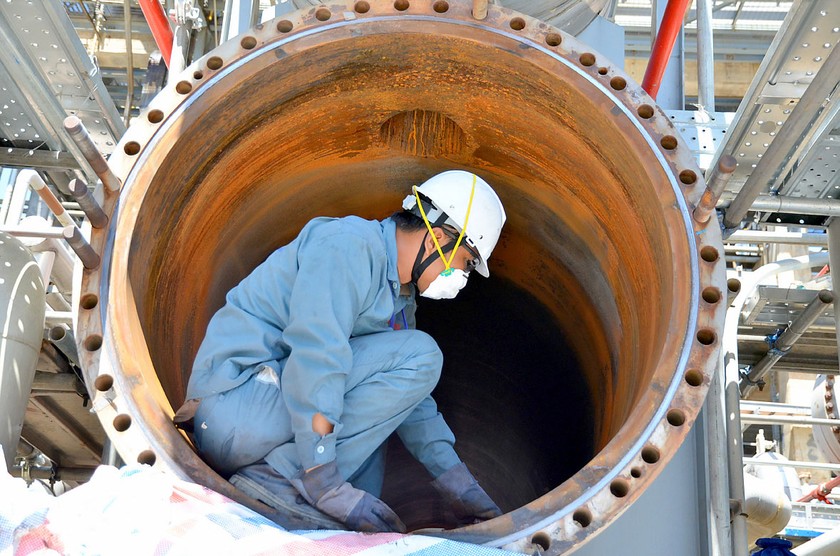 A maintenance man works in the vacuum distillation unit of Dung Quat refinery, Quang Ngai Province (Photo: SGGP)
The project will increase Dung Quat's capacity from 6.5 million tons to 8.5 million tons of petrol a year.
Technologies for light sweet crude oil refining at Dung Quat are estimated to be the most advanced in the Southeast Asia. However the plant is threatened by material shortage after five years of operation as the material source from Bach Ho field has become depleted.

Chairman of Binh Son Refining and Petrochemical Company (BSR) Nguyen Hoai Giang said that Dung Quat is able to process only light sweet crude from Bach Ho field. The company is a subsidiary of the Vietnam National Oil and Gas Group and operator of Dung Quat refinery.
Mr. Giang said that when building the plant, investors had thought about that scenario. However, it was too costly for equipping the plant with facilities to refine heavy sour oil. It is time now to broaden and upgrade the refinery to improve the refinery's competitiveness.
Beside the material shortage the Dung Quat plant is facing with competitiveness from other refineries which have been built or going to break ground such as Nghi Son in Thanh Hoa, Vung Ro in Phu Yen and Nhon Hoi in Binh Dinh Province.
Nghi Son's foundation is nearly built. The plant might come into operation by mid 2017 and supply petrol for the entire northern market.
Meantime US$4 billion and 8 million ton Vung Ro plant which invested with 100 percent foreign capital is expected to break ground in the second quarter this year and to be completed equipment installation by 2018. Once being done, it will control the southern market--the country's largest petrol consumption area.
BSR has invested in a sulfur recovery unit (SRU) to refine import sour crude oil. Construction progress has exceeded its plan by 2.4 percent to reach nearly 60 percent. The unit's pilot operation is expected to start in September this year.
2015 is a challenge year for BSR as it has to operate Dung Quat stably and effectively, and gradually upgrade and broaden the refinery, Mr. Giang said.
Chairman of Quang Ngai People's Committee Le Viet Chu said that upgrading the Dung Quat oil refinery is the province's first priority. Local authorities would give BSR with maximum assistances in all fields from site clearance to resettlement to speed up the project progress.
The province will establish a steering board to work with the BSR management board on the project, he added.