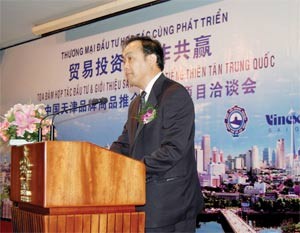 A Chinese enterprise speaks at a recent conference on China-Viet Nam's investment.
China will continue to be Viet Nam's major trade partner for the foreseeable future as Viet Nam plans to be exporting US$7 billion worth of goods there per year by 2015.
Many economists predict that China will require large inputs of raw materials and goods for local production and consumption within the next ten years. This, they say, will provide Viet Nam with a great opportunity to enter the enormous market of some 1.4 billion consumers.
In recent years, Viet Nam has exported some 100 categories of products to China, including crude oil, rubber, coal, seafood, vegetables and wood furniture. During the 2007-2015 period, Viet Nam plans to export bauxite, aluminum, iron ore, electronic products and consumer goods, the Trade Ministry announced recently.
Thanks to recent reforms to China's economy, carried out to fulfill the country's commitments to other members of the World Trade Organization, Vietnamese enterprises now have more chances to access the market and boost their exports.
Two-way trade between the two countries rose from US$32.23 million in 1991 to US$7.39 billion last year and is expected to meet or exceed US$10 billion by 2010.