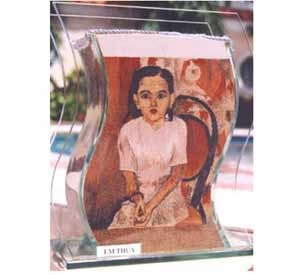 The copyright of artist Y Lan's sand picture will be traded on the floor.
Vietbooks and the Culture and Arts Copyright Department are organizing what will be Viet Nam's first copyright market in Ho Chi Minh City on April 26.
Already quite a few copyrights of famous Vietnamese artists' works have been registered for the first of what the organizers intend to be a monthly event.
They include the rights to some sand pictures by the artist Y Lan, paintings by Huynh Van Da, the script of Episode 2 of the drama series "Chay an" (buying justice) by Nguyen Nhu Phong, and several scripts by Nguyen Manh Tuan.
Another is the copyright of a pattern used in an embroidered silk picture from the XQ Company that contains the signatures of 150 Vietnamese record-holders, which might be of interest to a manufacturer or exporter.
There will also be other art as well as photos, poems and songs about Ha Noi.
Trading will be carried out in accordance with the copyright laws and regulations, and payment made through VP Bank and Techcombank to prevent any fakery.
Once it becomes established, the promoters of the monthly market, known as the Copyright Trading Floor, will announce new works of culture, art, information technology software, and their copyright holders.