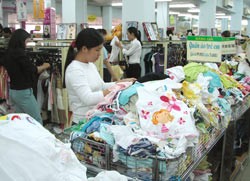 This month sees a light increase in the price of clothes. (Photo: T.C.)

The Consumer Price Index has gained 0.33 percent compared to September, the Ho Chi Minh City Statistics Bureau reported today.
Slightly higher prices are being seen everywhere: food, beverages, cigarettes, hats, other clothing, footwear, household appliances, medical and other healthcare services, education, entertainment and sport.  
The bureau partly blames the price increases on the strong export demand for rice and bad weather.