The Ho Chi Minh City Planning and Investment Department, the Investment & Trade Promotion Center in collaboration with Consulate General of the Republic of Korea yesterday jointly celebrated the HCMC- Daegu business forum with the participation of the two nations' enterprises.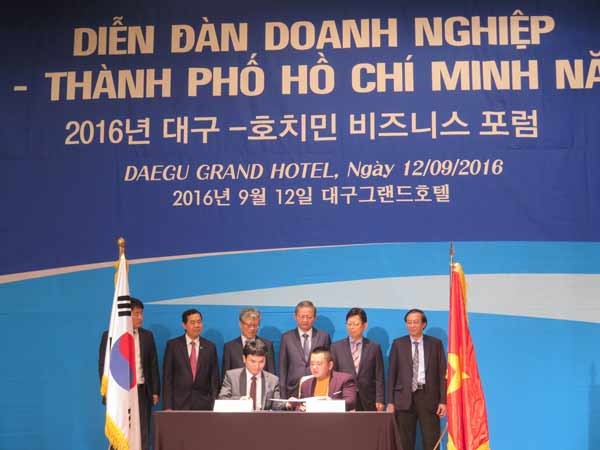 Leaders witness a signing ceremony of cooperation between the two localities' enterprise.
Speaking at the forum, Deputy Chairman of the Ho Chi Minh City People's Committee Le Van Khoa said: "The Korea-Vietnam Free Trade Agreement (FTA) came into effect on December, 2015 and opened new economic cooperative chance and is expected to bring two way turnover at US$ 70 billion by 2020.
Until now, Korea is the third investors in the city with 1, 250 projects and total investment capital of US$ 4, 3 billion. Korean big groups like Samsung, Lotte, CJ, GS etc… have contributed many projects in the city
Sharing with Daegu city's enterprises, the deputy chairman said that the city wants to strengthen cooperation with Korea in the fields of infrastructure, supplier industry, high technology, humanity resource development and environment protection. He also pledged that the city will strive to ensure political- social stability, benefit protection for foreign investors as well as create the best conditions for foreign businesses in general and Korean enterprises in particular.

"The country and the city will continue creating cooperation & exchange programs via practical projects between the two nations", stressed Mr. Le Van Khoa.
Vice Mayor of Economic Affairs of Daegu city Mr Kim Yon Chang said that the Daegu is well-known as a hub for thread industry, tourist, health and culture. At present, around 7, 000 Vietnamese people is living and working in Daegu city; in parallel face, 250 Daegu city's businesses are investing in Vietnam.
On this occasion, Korean and HCMC enterprises signed Memorandum of Understanding in all fields. Particularly, the Investment & Trade Promotion Centre of Ho Chi Minh City (ITPC) and Daegu Global Center signed cooperation on trade & investment promotion, Vietnam Delicious Food Company and Ricco PAPA signed a concession agreement for Ricco PAPA in the city, Vietnam- Korea International Trade Company and S& P Company signed a provision contract for enterprises and Nhat Nam Company and Junjin M&M signed a machines cooperation.