If the Government does not take urgent measures to boost the economy, many firms especially small- and medium-sized ones, might go bankrupt, an industry association has warned.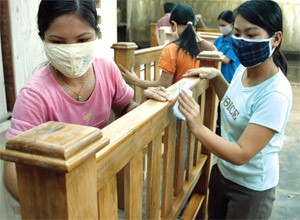 Making furniture for export at a factory in Ho Chi Minh City (Photo: SGGP)
Tran Quoc Manh, vice chairman of the Handicraft and Wood Industry Association of HCMC (Hawa), said 40-50 percent of Hawa's members are in bad shape and many could go bust.
 
The Government's measures to fight inflation, like tightening finance and hiking rates, have worked but led to a stagnation in the economy.
 
The clearest evidence comes from the slump in export activities. The average export figure was US$5.8-6.2 billion per month in the first eight months, but dropped to $5.1 billion this month.
 
Truong Dinh Tuyen, former trade minister and member of the National Advisory Council for Monetary Policies, identified two fundamental causes for the economic stagnation -- the global financial crisis and the Government's anti-inflationary measures.
 
He said fighting inflation is still a priority but the intensity has to be carefully reviewed.
 
Banks have plenty of money to lend but ask firms for collateral for loans.
 
Mr. Manh said banks should extend credit to them based on their prestige and balance sheet rather than insist on security.
 
If small- and medium-sized enterprises are able to access funds, unemployment would no longer be a worry and social stability could be ensured, he said.
 
Economist Bui Kien Thanh said high interest rates are another factor discouraging companies from borrowing, though the central bank recently reduced the basic rate to 13 percent from 14 percent.
 
The Government can reduce interest rates further, even to zero, to assist companies, he claimed without explaining how the Government can fight inflation with a zero-percent interest rate.
 
The Government has cut taxes, but further tax cuts are essential to lessen firms' financial burden, he added.
 
This might have an adverse impact on the Government's revenues but it is better than sacrificing companies to achieve targets, Mr. Thanh said.