Currently, Vietnamese rice export price is much lower than that of Thai, as the Mekong Delta is in the harvesting season, thus this is putting more pressure on rice exporters.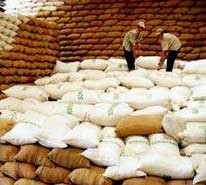 Rice is the leading export product of Viet Nam.
Because the Mekong Delta is entering the paddy harvesting period, the price of paddy has gone down by about VND100-200/ kilogram in comparison with that of early March. The current price is VND2,100-2,300/ kilogram, reported the Viet Nam Trade Information Center of the Ministry of Trade.

The surplus of rice is believed to have caused the rice export price to drop. Vietnamese rice (5% broken rice) was exported at US$258-260/ ton in January and February, 2006. The price fell at US$245-250/ ton in early March. And it has been only US$240-242/ ton, an decrease of US$20/ton year-on-year and US$60/ton compared with the same Thai rice.

The reason for the rice price fall is blamed on Vietnamese enterprises' shortage of capital and storage facilities. Meanwhile, foreign importers are cashing in and trying to drive the price futher down. As a result, the domestic prices of rice and paddy have fallen by about VND200/ kilogram.

According to the Ministry of Trade's warning, at present, only Viet Nam and Thailand can export 5% broken rice on the market. Vietnamese enterprises have to be judicious not to lock themselves in rice export contracts at a low price because the rice export price can possibly increase, it is even higher than the price of 2005.
Realted Articles:
Rice Production Plan Needed to Receive Loans: Banks
Rice Export: Amount Increases and Quality Will