Prices of local agricultural products and foods rose again yesterday and are now more expensive than imported products, including rice, sugar, beans, and maybe pig in the very near future.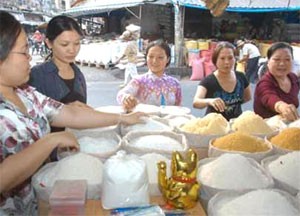 Sugar prices rise sharply yesterday
At the Tran Chanh Chieu Market in District 5, rice went up by VND300 a kilo over last week, to VND5,400.
 
Sugar wholesale prices also rose sharply. Refined sugar (RE) was trading at VND10,800 per kilogram, an increase of VND800 over the last week, and residual sugar (RS) at VND10,200-10,300 per kilogram, an increase of VND500.
 
After Government reduced tariffs on imported pigs down to zero percent, the price of live-weight pigs was VND35,000-36,000 per kilo yesterday, down VND1,000-2,000 from last week.
 
At Pham Van Hai market in Tan Binh district, pig prices declined by VND2,500 to VND44,500 per kilo yesterday as the volume of pigs increased slightly
 
As domestic prices have increased daily, consumers will likely prefer imported agricultural products over domestic ones this lunar new-year holiday because import taxes have gradually been reduced to zero percent.