Dung Quat Economic Zone in Quang Ngai Province, the site of the country's first oil refinery, has become a major destination for local and foreign investors who have announced plans to develop large projects.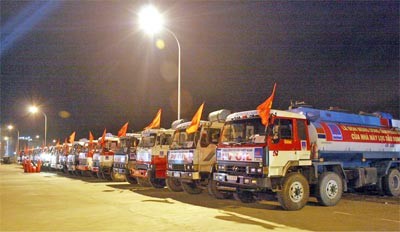 Some of the oil tankers that deliver Dung Quat refinery's products to the market (Photo: SGGP)
South Korea's group Doosan has invested US$300 million in a heavy industrial machinery plant that will make equipment mainly for thermal power and desalination plants and oil refineries. Three of its production lines have come into operation and it employs 1,700 workers.
Domestic operator Dung Quat Shipbuilding Company will launch a 104,000-ton vessel in June. The company plans to build a 105,000-ton oil tanker, the largest of Vietnam, and launch it later this year.
The Dung Quat Economic Zone has so far issued licenses for more than 100 projects with a total investment of US$10.3 billion. Of them, 44 projects are already on stream while 33 others are being developed.