The Vietnamese government expects the country's economy, amid the global recession, to stop downturn this June when the threat of a slowdown will have been stopped and growth will resume, Prime Minister Nguyen Tan Dung said Feb. 4.
During a regular cabinet meeting in Ha Noi on Feb. 3-4, which reviewed the nation's socio-economic performance in January and discussed the tasks ahead, the PM said "Each minister should act as a 'commander' in instructing production and business."
New movements are expected to see by May, according to the government leader.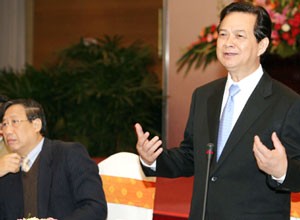 Prime Minister Nguyen Tan Dung makes a point at Wednesday's news conference in Ha Noi (Photo: Tuoi Tre)
He said this year would be much more difficult than last year because of the global recession.
"Two months ago, the International Monetary Fund forecast a 2.2% growth for the world economy this year. But now, the prediction was already modified down to 0.5%, the 60-year record low."
The PM said the ministers need to inspect production in their respective fields in order to immediately remove any difficulties and obstacles that may arise during the process.
"Besides, ministries, sectors and localities need to guide the disbursement of investment capital reserved for major projects that serve production and people," he added.
The government had earlier announced a US$6 billion stimulus plan, which includes about US$1 billion in corporate tax relief, and the central bank has been trying to spur economic activity through a series of interest rate cuts and other measures to boost lending.
During the cabinet meeting, Mr. Dung on Wednesday ruled out the possibility of devaluing Vietnamese dong. He said any forex policy would impact on monetary and financial markets.
The government is still adjusting forex rates as required by the market, with evidence being a recent move to widen the dong trading band to 3% on either side to support exports, the PM told reporters.
During the meeting, Mr. Dung also reminded the ministries that financial and monetary policies should be implemented flexibly. "In particular, deposit and lending interest rates should continue to be closely monitored for timely adjustments in accordance with reality."
He asked the ministries, sectors and localities take practical steps in implementing programs and projects to assist the poor, build houses for low-income earners, send workers abroad, generate jobs, and support those who have lost their jobs as a result of the economic downturn.
According to the Ministry of Planning and Investment, the nation's industrial production value was estimated at VND50.6 trillion for January, an 8.6 percent month-on-month decline and a year-on-year decrease of 4.4 percent.
In January, total export value was estimated at US$3.8 billion, a decrease of 19 percent compared to the previous month and a year-on-year drop of 24.2 percent. Import spending was US$4.1 billion, equivalent to just 55.2 percent of the figure in the same period last year. Industrial output also posted a rare drop, falling 4.4 percent in January from last year's January.