Domestic electronics industry still struggle to survive as local electronic manufacturers have to narrow their production.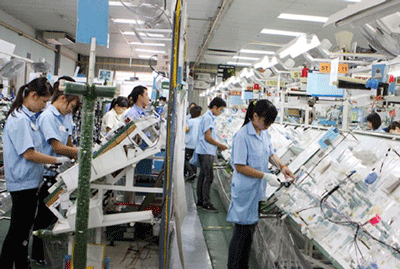 Employees work at a cable production line at the Sumi Hanel Cable Systems Company in Ha Noi's Sai Dong Industrial Zone. In 2013, electronics exports brought in $32.2 billion in revenues accounting for the biggest share of the country's exports. -VNA
The most important problem of the electronics industry is attributed to poorly-developed support industry. Electronics businesses are still facing difficulties in having access to bank loan and seeking workshop for their production.
In addition, Viet Nam still lack industrial zone complexes to adapt small scale electronics businesses and R&D centres to assist in supplying technology for electronics makers.
Most of locally-manufactured products are made in line with foreign design. Very few local makers are produced by local manufacturers and generate a very low added value and low competitive edge, reports Viet Nam Economic Times.
For a long period, Vietnamese electronics industry only have assembled electronic spare-parts and labelled Made-in-Vietnam products
On the other hands, local electronics manufacturers have low competitive edge in comparison with foreign direct investment companies as FDI businesses enjoyed huge tax and fee incentives. FDI businesses will enjoy a 10 per cent corporate income tax rate for 15 years, down from the usual 22 per cent. Furthermore, the investor will also enjoy a four year tax break and a 50 per cent reduction for the following nine years. While, local investors have to pay 20 per cent corporate income tariff. The tariff is applied in 2014.
Furthermore, one of the obstacles hinder local electronics manufacturers getting into global value chains in the electronics industry is the concept of building a comprehensive electronic industry ranging from eletronic accessories to CKD products.
Local insiders noted that to develop this concept is not a simple thing. To participate in the global value chains in the electronics industry, Vietnamese electronic makers need to shift their production structure by changing from production and assembling of civil electronics products to design and development of specialised ones. They are also asked to focus on specific investment strategies.
General secretary of Viet Nam Chamber of Commerce and Industry (VCCI) Pham Thi Thu Hang said local electronics makers needed to specify which are the best products and accessories having high competitive edge to be produced so as to meet the three following targets: "quality, on time delivery and reasonable price."
If the three targets were met, local electronic producers could participate in the global value chains in the electronics industry, she said.
According to the General Statistic Office (GSO), Viet Nam export turnover of electronic items reached US$20.5 billion or an increase of 90 per cent against 2011. In 2013, export turnover of this sector posted $32.2 billion taking the lead in the country's exports.
According to the annual report of the VCCI, the great achievement in export turnover of electronics sector in the last three years showing that this sector plays an important role in the country economic development. However, it noted that the great achievement is mostly contributed by FDI businesses while local businesses have not yet made any impressive development in the achievement.
Although FDI businesses account for 25 per cent out of 500 electronics businesses in Viet Nam, they account for 80 per cent of the market share and major of the export turnover.