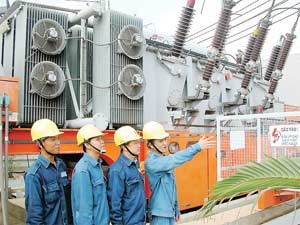 Workers study the electricity grid for domestic power consumption.
In order to answer Viet Nam's rising demand for energy resources, the country is sparing no effort to attract more foreign direct investment in the energy sector, said a senior official of the Ministry of Industry.
Deputy Industry Minister Bui Xuan Khu, said Viet Nam's demand for energy is currently increasing to meet the requirements of the nation's economic development, modernization and industrialization.
"With the renewal policy, intensified international integration, WTO membership and a stable political situation, Viet Nam's economy has developed quickly over the past few years. As a result, demands on the overall energy sector have grown annually by over 10%. More specifically, the demand for electricity has risen 15-20%, which has put a lot of pressure on the national system", he explained.
According to the Deputy Minister, to meet the nation's rising demand for energy over the next 10 years, investment in electricity, oil and coal will reach US$ 8-10 billion annually, of which US$ 4-5 billion alone will be for the electricity sector.
However, loans from international financial institutions and the Government account for merely 30% of the required funding, resulting in an increasing demand for foreign direct investment.
"To maximize the development of the energy sector, the Government is attempting to diversify domestic and foreign investment, bilateral co-operation and private investment," he said.
The Prime Minister recently instructed Viet Nam's leading energy groups, such as the Coal and Mineral Industries Group, the Oil and Gas Group, Electricity Viet Nam and the Song Da (Da River) Construction Corporation to expedite the construction of their thermo-and hydro-electricity plants.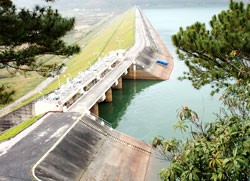 Da Nhim Hydro-electricity plant
In addition, the Ministry of Industry is also developing new policies related to the management and mobilization of foreign investment in order to assemble the necessary funds to create more independent power plants and thermo-electricity centers in the near future.
Electricity laws, which became effective in July 2005, have paved the way for the gradual introduction of market forces into the power industry. While the state retains control over power transmission and industry regulation, investors have been encouraged to enter the generation, wholesale, and retail markets.
"That would make Vietnamese commodities more competitive on world markets and make the investment environment more attractive," Mr. Khu concluded.
Viet Nam's potential areas for foreign investment include but are not limited to the following:
- Hydro and thermal power plants;
- Development of new and renewable energy sources, such as wind, solar, geothermal and biomass energy;
- Development of alternative energy sources: investment in technology to produce and use bio-fuel;
- Energy conservation;
- Deep coal exploitation technology and coal production;
- Oil and gas exploration, exploitation, production and related services;
- Investment in the development of petrochemical filtering projects in order to gradually reduce reliance on imported petroleum;
- Clean development projects;
- Clean coal technology