The prices of essential goods and foods are easing thanks to abundant supply, the central Market Management Unit said Tuesday.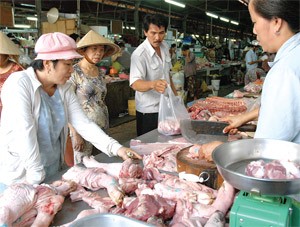 The prices of essential goods and foods are easing and forecast to be steady in September
It forecast the inflation rate to slow down in September and prices to remain stable.
 
With farmers managing to sell most of the paddy they recently harvested, traders have plenty of rice in stock. Rice prices are, therefore, expected to remain stable next month.
 
Fertilizer, steel, and cement prices too are expected to be steady.
 
The Vietnam National Petroleum Corporation has asked the Ministry of Industry and Trade to strengthen monitoring of fuel traders to prevent dumping and other unhealthy practices, and to allow fuel companies to establish a fund to stabilize prices.

The consumer price index (CPI) rose 1.56 percent in August, slightly higher than in July, according to the General Statistics Office. It brought inflation for the year to 21.65 percent.
The August rise was caused by the petrol price hike at the end of July, which pushed up transport and postal costs by 9.07 percent, the highest increase among a basket of 10 commodities that make up the CPI.
A subsequent cut in fuel prices soon after the hike has helped limit the CPI rise.
The Ministry of Finance said to keep prices under control the government's anti-inflationary measures should continue. The government has in place a tight monetary policy and cut public spending.  
But economists warned unforeseen factors like natural calamities, epidemics, and global economic problems could affect the government's efforts to contain inflation during the rest of the year.