As many as 100 outstanding entrepreneurs were honored at a ceremony in Ha Noi on Thursday to recognize the top business leaders of 2006 and officially mark Viet Nam's Entrepreneurs Day (October 13).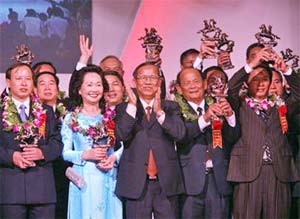 Deputy Prime Minister Mr. Truong Vinh Trong (C) and the outstanding entrepreneurs at the awarding ceremony.
Selected from 640 businesses across the country by the VCCI (Vietnam Chamber of Commerce and Industry) and the International Labour Organization, the award recipients included 52 joint stock companies and private enterprises, 37 State-owned enterprises, eight foreign direct investment businesses, and three cooperatives.
Speaking at the ceremony, Deputy Prime Minister Mr. Truong Vinh Trong praised entrepreneurs for their practical contributions to national development and expressed his hope that they will work harder at making further contributions to national construction.
"The Vietnamese business community needs to develop rapidly in both their quality and quantity, unite in strengthening their competitiveness and promote cooperation and image building," expanded Mr Trong. "In addition to economic development, businesses should pay attention to Party building activities, practice strict budgeting, and proactively integrate into the world economy while persistently fighting corruption and wastefulness."
On behalf of the foreign recipients, Mr. George Kobrossy, General Director of Zamil Steel Vietnam, thanked the Vietnamese Government for creating favorable conditions for foreign companies to do business in the country.
"Viet Nam has attracted a great deal of foreign investors and it has been the first choice in our development strategy," he added.
Mr. Kobrossy also forecasted Viet Nam to be an attractive destination for foreign investors thanks to its young and abundant labour force, political stability, simplified procedures, and investment incentive policies.
During the past 20 years of implementing the Doi Moi (Renewal) process, Viet Nam has developed nearly three million trading households and more than 200 different crafts involving millions of businesspeople and employees in the development of the national economy.
A seminar on the national strategy for developing businesses and businesspeople was organized by the VCCI in Ha Noi that morning as part of the activities to mark the Viet Nam Entrepreneurs' Day (October 13).
As part of the occasion, the VCCI presented the "Outstanding Vietnamese Entrepreneur" title and Thanh Giong golden cup to four entrepreneurs: Luong Van Can, Bach Thai Buoi, Nguyen Son Ha and Trinh Van Bo, who were credited with the revival of the national business spirit.