Government officials, professors, and business people met yesterday to discuss ways to combat the inflation that has become a millstone around people's necks.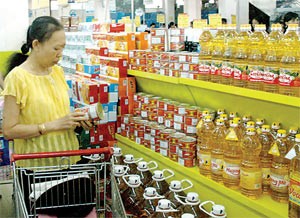 The price hike is squeezing consumers
Prices have risen by 7.5 percent in just the first three months, including 15 percent year-on-year in February.

Dr. Nguyen Huu Tu, head of the Economic Department at the Central Party Office, said the high inflation was the result of a build-up from previous years and rising global prices.

He admitted that the central bank's inflexible monetary tightening policy -- like raising compulsory reserve and interest rates and limiting loans given to securities investors -- had set off a deposit interest race among banks and caused chaos in the financial market.

Dr. Le Thai Thuong Quan of the Ho Chi Minh City Open University said the tight money policy and interest rate hike had slowed down many businesses and threatened to lay off workers.

Dr. Nguyen Van Ngai of the HCMC University of Agriculture and Forestry warned the increase in interest rates will lead to a decrease in production and, thus, the country's GDP (gross domestic product).

Therefore, if inflation was to be checked, the trade-off was economic growth, he said.

Professor Tran Ngoc Tho of the HCMC Economics University said, "The appreciation of the dong against the US dollar is helping to curb inflation. But it's not completely good because cheap imported goods might knock out local ones."

Besides, banks' refusal to buy dollars from exporters might put the latter out of business, he added.

Tran Phuong Binh, general director of the East Asia Bank, said allowing the dong to appreciate to curb inflation was unadvisable when imports exceeded exports by about US$7.5 billion in the first three months.

But banks weren't buying dollars and importers preferred to borrow foreign currencies rather than buy them because of the low interest rates, he said.

He added banks should limit dollar loans, offering them only to exporters and enterprises for long-term capital expenditure.