Most of small and medium enterprises (SMEs) have been developed from business households and affirmed their role to the country's economy, however they have mainly operated locally and been vulnerable to competitive integration, according to experts Dau Anh Tuan and Pham Ngoc Thach from the Vietnam Chamber of Commerce and Industry.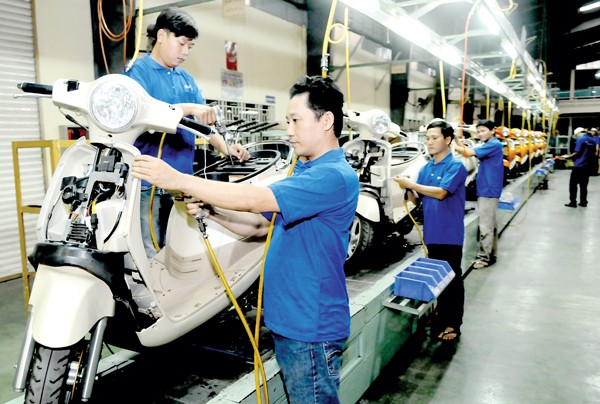 Motorbike assembly at Tien Loc Company in HCMC (Photo: SGGP)
This group of enterprises has contributed to 45 percent Gross Domestic Product, 31 percent budget revenue, 50 percent yearly national economic growth a year and 51 percent social employments as of 2015.
Still, they have showed many limitations such as spontaneous development over small scale with a shortage of connectivity, weak management and financial ability, small market and not high competitiveness.
The SMEs White Book in 2014 announced by the Ministry of Planning and Investment indicates that 97.6 percent of businesses in Vietnam are small and medium sizes. Those operating in commerce and service field have less than 100 workers each and firms in other fields have less than 300 workers.
The Government has issued many policies to develop SMEs including Decree 90 and 56.
Many programs have been launched to provide firms with preferential treatments in capital, land, technology innovation, market expanding and human resource development.
However they have not in fact brought efficiency as expected.
According to a survey on Provincial Competitiveness Index (PCI) 2015 by the Vietnam Chamber of Commerce and Industry, 77 percent of super small enterprises, 69 percent small and 55 percent medium sized firms have developed from business households.
Global integration and severe market competition have required businesses to have higher management ability and catch up with market demand. Vietnam's economic development much depends on businesses' attendance in the global value chain.
Yet after ten years of Vietnam's WTO membership, most of private firms have just operated domestically. The connectivity between them with foreign direct investment (FDI) firms through providing goods and services has been limited.
PCI 2015 says that only 3-4 percent small firms have customers who are FDI firms. This is because of their marketing weaknesses. Besides, many have failed to meet production management and quality standards by FDI firms.
So far, many SMEs have not grasped information about ASEAN Economic Community and free trade agreements that Vietnam has signed such as EU-Vietnam FTA and Trans-Pacific Partnership.
The number of loss making ones last year was rather high including 32 percent super small firms, 17 percent small, 16 percent medium and 10 percent large companies.
SMEs have reported difficulties in accessing information related to them and forecasting changes in the law.
Only 11 percent of super small, 12 percent small and 16 percent medium companies asked in the PCI 2015 survey said that they were capable to forecast legal regulation changes affecting to their operation.
Worse, only 7 percent super small and small firms and 8 percent medium enterprises said that they were able to predict provinces and cities' implementation of legal documents.
The survey also showed that SMEs have faced with loan access difficulties.
At present, only 48 percent small companies and 66 super small firms have got bank loans. Many have been unable to access this capital source because having no mortgages.
Even when they have collaterals, the loan time to them is also within a year with interest rate higher than that for other groups of businesses.
The capital access difficulties have made it difficult for them to implement their long term business plans to broaden production and trading.
Moreover, many provinces and cities have policies to remove production establishments including SMEs from urban areas to reduce and prevent pollution and fires.
Most SMEs have struggled to find places to remove in because they have been unaffordable for high rent at industrial parks and clusters, as well as time consuming and costly cargo transport.
Many local authorities have spent their budget on building these parks which have mainly served FDI and large firms.