Sustainable family farming could help solve hunger and food production problems in Viet Nam, UN food security officials said during a celebration yesterday of the 34th World Food Day in the northern province of Quang Ninh's Hong Phong Commune.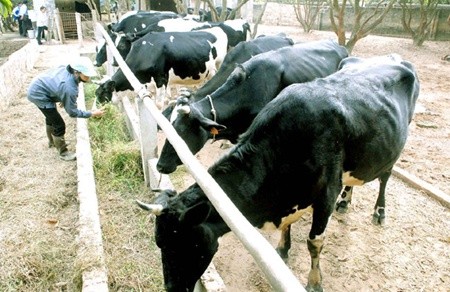 A flock of dairy cows owned by a family in Binh Khe Commune in the northern province of Quang Ninh's Dong Trieu District. Sustainable family farming will help reduce hunger, according to UN experts. — VNA/VNS Photo Nguyen Dan
The commune, where many households farm together and women play an important role, embodied this year's theme: Family Farming: Feeding the World, Caring for the Earth. The Ministry of Agriculture and Rural Development, the Food and Agriculture Organisation of the United Nations (FAO) and UN Women in Viet Nam hosted the celebration.
Deputy Minister Le Quoc Doanh said at the event that to successfully carry out a restructuring programme in the agricultural sector, family farming needed to play a bigger role in providing food security and nutrition.
He also defined family farming as the smallest production unit in agriculture, which is better equipped to suit specific local conditions and include female farmers than a bigger producer.
Female farmers have contributed significantly to the country's food security, and have worked hard to adapt farming techniques to better handle climate change in Viet Nam, said JongHa Bae, Viet Nam's FAO representative.
In Viet Nam and throughout the world, family farms play crucial socio-economic, environmental and cultural roles, and need to innovate to increase their effectiveness, according to the FAO.
As Viet Nam rapidly approached the Millennium Development Goals deadline, it must forge a sustainable, hunger-free future, with the help of family farmers, said FAO Director-General Jose Graziano da Silva.
Many family farmers, especially subsistence producers, are among the 70 per cent of rural residents worldwide who lack food security.
To further celebrate World Food Day, the winners of the National Story Competition on the role of women in family farming received their awards. The commune also hosted local art performances, a cooking competition and an introduction of specialty rice varieties in the commune.