Foreign direct investment (FDI) in Vietnam this year reached $60.217 billion through 1,171 projects, reported the Ministry of Planning and Investment's Foreign Investment Department.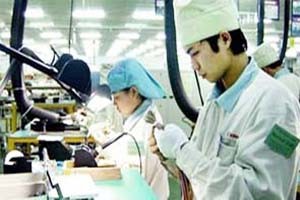 Employees at Canon in Bac Thang Long Industrial Park, Hanoi (Photo: Nhan Dan)

In December alone, 112 FDI projects have been licensed with total investments of over $1.171 billion.
Most FDI projects licensed in 2008 were wholly foreign-invested, accounting for 75.3 percent of total projects and 51.7 percent of total capital. The average size of projects reached $51.47 million, a massive increase from previous years.
Industrial and construction sectors account for 572 projects worth $32.62 billion, making up 49 percent of projects and 54 percent of total investment.
The service sector totaled 554 projects with total capital of $27.4 billion, accounting for 47.3 percent of projects and 45.4 percent investment. The remaining FDI was invested in the agriculture, forestry and fishery sectors.
This year also see 311 existing FDI projects increase their capital by $3.74 billion.
Malaysia tops the list of 50 countries investing in Vietnam this year, with total investments of $14.9 billion in 55 projects. Taiwan is second, with $8.64 billion in 132 projects, followed by Japan with US$7.28 billion in 105 projects.
In general, FDI enterprises' operations this year are creating profits, with total revenues of $50.55 billion, up 24.4 percent from last year. Exports account for $24.46 billion, 40 percent of Vietnam's total export turnover.
In December, FDI disbursement reached $1.45 billion, taking total disbursed FDI capital this year to $11.5 billion, up 43.2 percent from 2007.