With its low competitive edge, the textile and garment sector will face severe challenges next year when foreign products enter the country under Viet Nam's WTO commitments, analysts have warned.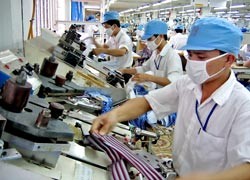 Production of garments at a factory of Viet Tien Garment Company 
Speaking at a seminar held in Ho Chi Minh City yesterday by the Business Studies and Assistance Center (BSA), they said local textile and garment firms do not appear to be doing enough to build their brands and promote their image to deal with the imminent competition.
They should ask themselves the question, "What is the position of Viet Nam's fashion products on the world market?" they said.
Tran Anh Tuan, an expert in market research and branding, said, "Viet Nam is yet to have a real fashion industry; it just has fashionable textile and garment products."
As a result, the competitiveness of domestic businesses, especially in high-value products, is low, he said. Viet Nam makes good office-wear and youth products but its firms do not have recognizable brand names except Viet Tien, he said.
Some other brands, despite being famous, are not famous names yet, he explained.
There are some well-known fashion designers like Vo Viet Chung and Sy Hoang, but their products have yet to be consolidated under brand names or mass produced, he said.
A recent BSA survey found that 70 percent of shoppers, mostly young people, buy fashion products once every two or three months. It also found 65.4 percent of people saying Korean movies have a major influence on consumers under 25.
 
But fashion houses do not have a professional distribution network to serve their clients, who the survey said prefer to buy at shopping malls and supermarkets.
The BSA said further that the lack of professional skills and poor advertising and promotion did not help.
The high-end fashion sector is dominated by well-established foreign companies, it said, with just a few Vietnamese names like Ninomaxx and F-house competing for a share of this pie.
Seminar delegates heard that with the date for the market-opening, January 1, 2009, approaching, Vietnamese textile and garment businesses have to speed up preparations to take on some strong foreign rivals, including the Chinese who are expected to flood the market with cheap products.