Foreign-owned exporters made the most of annual flower turnovers as domestic firms with weaker finance base cannot afford hi-tech equipments to boost production.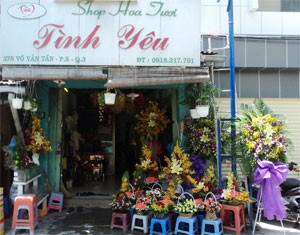 A flower shop in Ho Chi Minh City. Foreign-owned florists with strong financial base are dominating flower export (Photo:Minh Tri)
Da Lat City, also known as the Flower City, in the highland province of Lam Dong is the country's largest flower farm, with 3,500 hectares covered by flowers and 2,000 farmers.
Statistics show the city produces 1.2 billion flower branches annually, but only around 5 percent of the amount are exported, of which most of them are from Dalat Hasfarm.
The Dutch-owned florist is Da Lat's biggest company in the sector, which has been operational in Vietnam for more than 14 years.
"In 2010, we exported 80 million flower branches and 150 million saplings to key markets including Japan, Australia and Singapore. Especially, the export turnover of flowers reached US$30 million," said Nguyen Hoang Van Danh, marketing director of Dalat Hasfarm.
The firm has a farm with an area of around 300 hectares, of which greenhouses are built on an area of more than 100 hectares. They produce 70 percent of the total output for export.
Danh said the cost of greenhouses is up to EUR150,000-200,000 per hectare, with top-notch technologies from Netherlands and France. The company also sets up strict verified programs in an effort to meet high requirements of big markets and strongly invests in delivery processes to avoid damages for flowers.
Local florists, on the other hand, spend a lot of time to seek investments. "Earlier, we thought doing flower business required greenhouses only," a director of a local florist told Dau Tu Tai Chinh Newspaper.
"Thus, we spent nearly VND1 billion ($50,000) for one. However, facts showed that doing flower business required a much larger investment.
"Besides of greenhouses, you have to invest in houses with a cold system to keep flowers fresh. You also have to set up closed processed for multiplication, plantation, reservation and export. Most local florists struggle to afford all of those."
Efforts to survive from a harsh competition have seen some local companies switch to export dried flowers. Nguyen Dinh Son, director of the DaLat Flower-Forest Biotechnology Corporation, said the dried flower market is vast and the profit rate of dried flowers is 12 times higher than fresh flowers' level. However, he said some exported dried flowers also required expensive techniques.
Vietnam has an area of around 8,000 hectares for flower farms, producing 4.5 billion branches per year. Of the amount, one billion are exported to major markets including Japan, Australia and Singapore last year, making a turnover of $60 million.
The Ministry of Agriculture and Rural Development plans to bring Vietnam's flowers into markets in North America and Middle Euro, which have a great demand.