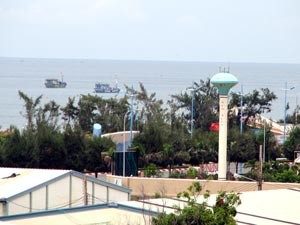 Vung Tau attracts more investment capital. (Photo: T.C)
Several hundred-million dollar foreign investment projects are set to take off in Ho Chi Minh City, and surrounding Binh Duong and Ba Ria – Vung Tau provinces with total investment reaching billions of US dollars.
In Ho Chi Minh City, the Sai Gon Premier Container Terminal (SPCT) project at the Hiep Phuoc Industrial Park has just been awarded an investing license. SPCT, a joint-venture between the British P&O Sai Gon Holding Limited Company and the Vietnamese partner Tan Thuan Industrial Promotion Company, is built on a total investment of US $249 million and will be capable of receiving 30 million tons of goods annually.
A joint-venture between the Sai Gon Port and the Finish APM Terminals will also begin construction of a container port in the southern area by the end of this year, expected to be operational by the middle of 2009.
At the meeting with the city's leaders last week, the Korean Kumho Asiana's chairman Park Sam So unveiled a plan to build a commercial center – office complex, the Asiana Plaza, with the investment of US $230 million .
Another Kumho Asiana project – a tire plant in Binh Duong Province invested at US$ 300 million – will begin construction at the same time.
The Viet Nam Steel Corporation is also in talks to set up a joint-venture with Essar – an India-based steel group -- consisting of a US$ 500 million plant with the ability to produce 2 million tons per year in Phu My Town, Ba Ria – Vung Tau Province.
In early 2007, a joint-venture between Thanh Long Tourism Company and the Viet Thang Company will begin construction of the Sea Dragon Hill tourist park in Dat Do District in the province with the investment of US$ 900 million.