Viet Nam has attracted foreign direct investment worth US$47.15 billion so far this year, a year-on-year increase of 370 percent, the Department of Foreign Investment reported Tuesday.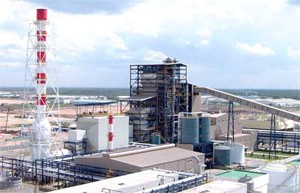 A thermal power plant operated by Taiwan's Formosa in the Dong Nai Industrial Zone. Taiwan remains the largest investor in Viet Nam.
It includes US$46.3 billion pledged for 772 new projects, 4.5 times higher than last year, and US$830 million for 210 existing projects.
 
But the number of new projects is only 80 percent of that of last year, indicating the increase in the scale of most projects.
 
In August alone 118 projects worth over US$1.8 billion were licensed.
 
Taiwan (China) remained the top investor with US$8.6 billion in 112 projects.
 
Japan followed with US$7.2 billion, Malaysia with US$5.07 billion, Brunei with US$4.3 billion, and Canada with US$4.2 billion.
 
Ba Ria-Vung Tau Province topped the list of FDI destinations with US$9.3 billion pledged for four projects. It was followed by Ho Chi Minh City and Ha Tinh and Thanh Hoa Provinces.

The department said the services sector remained the most attractive area for foreign investors with US$23.6 billion, followed by the industry and construction sectors with a cumulative US$22.5 billion.
Of the FDI pledged this year US$8 billion has actually been disbursed, a 43 percent rise over last year.
 
The department's head, Phan Huu Thang, said if disbursement for the whole year tops US$12 billion as forecast by international financial organizations, it would significantly help the country achieve its gross domestic product growth target of 7-7.5 percent.
To help increase disbursement and speed up work on projects, the Ministry of Planning and Investment said it would streamline administrative procedures and facilitate land acquisition.
Mr. Thang said decentralizing and devolving power to local authorities to license FDI projects is the way to go since it has helped attract more foreign investment in the last three years.