Most foreign businesses operating in the southern region have voiced their belief in the investment environment in Vietnam and affirmed they will continue with their operations in the country.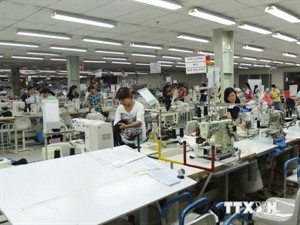 Illustrative image (Source: VNA)
The positive sign was seen at a conference of representatives from FDI enterprises in the southern region held by the Vietnam Chamber of Commerce and Industry (VCCI) in Ho Chi Minh City on May 30.
Many participants spoke highly of measures carried out by the Government and local authorities to support enterprises affected by disturbances in Dong Nai and Binh Duong provinces on May 13-14. The disturbances occurred when some bad individuals took advantage of workers' rallies in protest of China's illegal placement of its Haiyang Shiyou-981 drilling rig in Vietnam's waters to incite others to damage and destroy assets of some foreign-invested companies and factories.
They also appreciated measures to ensure security for enterprises' production and business activities, saying that is the reason why they continue to have strong confidence in the investment environment in the country.
Representatives from the foreign business community presented many specific recommendations aimed at further facilitating the resumption of production.
President of the European Chamber of Commerce in Vietnam Nicola Connolly suggested Vietnam consider speeding the visa granting process and lengthening the valid duration of work permit for foreign experts and engineers.
During the conference, representative from Ho Chi Minh City, Dong Nai and Binh Duong provinces also pledged to ensure safety for production and business activities while standing side by side with enterprises to solve their difficulties.
Tran Van Nam, Vice Chairman of the People's Committee of Binh Duong, where the number of damaged enterprises was largest, stated that despite the recent disturbances, on June 4, the province will grant investment licences to 50 projects worth 195 million USD.