"The Ministries of Trade and Finance have yet laid down any plan for increasing gasoline price at this time," said Dr. Hoang Tho Xuan, Director of the Domestic Market Policy Department under the Ministry of Trade after the April meeting with the domestic market management team in Ha Noi on April 25.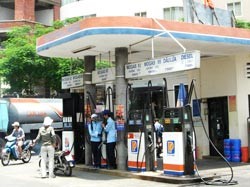 Gasoline price currently remains unchanged. (Photo: T.C.)
World crude oil prices continued to increase sharply in the past 20 days, to US$73.33 a barrel on April 24. The high prices have made gasoline importers incur losses in April. For instance, they have suffered a VND1,000 loss per liter of gasoline, VND1,900/liter of diesel, and VND1,167/kilogram of mazuts.
The Ministry of Trade has sent out three investigation teams. Basically, enterprises have continued importing gasoline according to plans, needed reserves, and contracts to ensure supplies in the coming time, added Dr. Xuan.
The current issues which need to be solved are guaranteeing gasoline supplies, preventing gasoline trafficking to Cambodia and recouping gasoline businesses' losses.