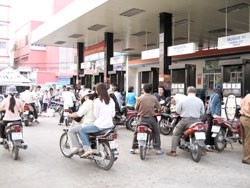 At a filling station on April 28 (Photo:T.C)
The Vietnamese Ministry of Trade ordered an increase of the domestic gasoline prices, starting April 27, 2006.
Retail price of gasoline sold at filling stations was VND10,800, VND 11,000 and VND11,300 dong per liter of A90, A92 and A95, respectively. Both domestic diesel and kerosene prices increased by VND400 per liter to stop at VND7,900.
The Ministry of Trade's Market Management Department has sent out its investigation teams to supervise the gasoline sale at many filling stations in Ha Noi immediately after the adjustment was announced.
According to Mr. Hoang Tho Xuan, Director of the Domestic Market Policy Department under the Ministry of Trade, it was only the ministry's last resort to increase the domestic gasoline price as the world crude oil prices continued to increase sharply in the past few days and the gasoline smuggling to Cambodia is currently uncontrollable.