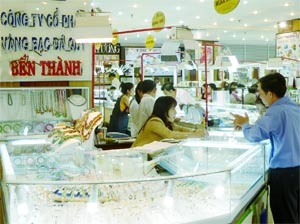 Demand in the gold market increases as the stock market and banks begin to lose their attraction. (Photo: TK)
HCMC-based gold trader Saigon Jewelry Company (SJC), reported a remarkable increase in their sales volume yesterday despite the fact that the price of gold shot up by VND160,000 per tael to VND13.13 million.
An SJC representative said the company sold some 6,000 taels (approx. 7200 oz.) of gold on Thursday alone, a two-fold increase over a few days ago.
"Demand in the gold and real estate markets increased recently as other investment channels, including the stock market and banks, began to lose their attraction," he explained.
The global market price for gold yesterday evening was up US$6 per ounce, eclipsing Wednesday's price of US$669 and setting the highest mark over the last two weeks.
According to the Vietnam Export-Import Commercial Joint Stock Bank, the rise in global rates is due to the weakening US dollar and investor-anxiety over possible retaliatory measures from China after the US blocked access in Beijing to American films, books and software over WTO-regulated copyright violations on Tuesday.