Vietnamese gold prices continued to rise yesterday after the Ho Chi Minh City-base Saigon Jewelry Company quoted a selling price of VND13.33 million (roughly US$827) per tael, up VND80,000 per tael over yesterday.
Local gold traders said that the domestic gold price is following world price hikes closely. Yesterday, the high closing price of US$689 per ounce on the international market was attributed to political tensions in Iran and the devaluation of the US dollar.
According to experts, another reason for skyrocketing prices in Viet Nam was the rising demand for gold on the domestic market. Gold retailers reported that sales of jewelry and bullion were stronger than usual yesterday morning even as the price of gold was going up.
Gold price to hit VND15million per tael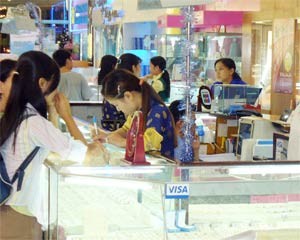 Gold retailers report an increase in sales than usual even as the price of gold was going up. (Photo:TK)
International financial experts believe that gold price increases in the last several days were caused by the potential devaluation of the greenback since the European Bank was considering raising the interest rate in a bid to control high inflation rates among EU member economies.
Moreover, the price of oil is expected to increase as the US enters its high consumption season, not to mention the fact that OPEC has cut its output, which will lead to a shortage of reserves in developed countries several months from now.

However, according to Mr. Suresh Hundia, Chairman of the Bombay Gold Association, the world gold price will not surpass the US$695 an ounce level because investors are wary about the instability of the gold market.

He said that if global interest rates get higher, investing in gold will become less attractive because investors will look for other investment channels.
Related link: