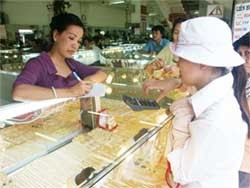 Few Vietnamese people decide to purchase gold recently due to a slight increase in the domestic gold price. (Photo:TK)
Gold hit a one-month high of US$673 yesterday, benefiting from increased tensions over Iran's detention of the British sailors ahead of their release.
The yellow metal's highest price since March 1 has been put down to geopolitical concerns since gold is seen as a safe store of value in times of political tension, as well as high inflation.
Gold has won renewed support in recent weeks owing to Iran's standoff with Britain over the 15 British sailors captured by Tehran on March 23 and freed on Wednesday.
"While the release of the UK hostages may lead to some safe-haven reduction, gold should now find sufficient momentum of its own as speculative players appear more confident at increasing their risk exposure," said one industry player.
The average price of gold in 2007 is set to break records because of interest from investors amid geopolitical uncertainty, the precious metals consultancy GFMS said on Wednesday.
Since the start of 2007 gold has traded at an average of US$650 an ounce. On May 12 last year, an ounce of gold hit a fixing price of US$725.75 on the London Bullion Market, the highest level in more than 26 years.
Purchases of gold for investment had actually fallen by 13% in 2006 from 2005 to 743 tons. However, the value of demand grew by almost 18% to more than US$14 billion. In tonnage terms, global investment accounted for 19% of total demand last year.
The Ho Chi Minh City-based Saigon Jewelry Company was pricing its gold at VND12.96 million (roughly US$804) per tael this morning in line with the global trend, despite only moderate demand. The domestic price is still VND10,000 a tael lower than the world level (one tael is a bit over 1.2 oz).