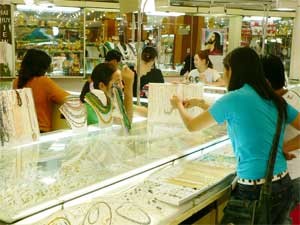 Gold retailers report an increase in their sales of jewelry and bullion even as the gold price was going up. (Photo:TK)
Saigon Jewelry Company, a leading Ho Chi Minh City-based gold trader, raised its price for the yellow metal to VND13.24 million (roughly US$821) per tael this morning, an increase of VND20,000 over yesterday.
Because of the renewed demand for gold, local traders have been raising their prices for several days to catch up with the surging international price, which added US$2 an ounce in London earlier today to stop at around US$683.
In Ho Chi Minh City, AAA gold is being bought for VND13.15 million per tael and sold for VND13.22 - 13.23 million.
Several international banks and investment funds are tipping that gold will continue to rise all the way to VND15 million a tael.
Gold retailers report that their sales of jewelry and bullion were stronger than usual this morning even as the gold price was going up.
Between them, SJC and the Viet Nam Jewelry Company say they sold around 5,000 taels of SJC and AAA gold biscuits. Some banks were also in on the action and registered with the Ha Noi-based gold trader Bao Tin Minh Chau to buy 4,000-5,000 taels for their reserves.
Mr. Dinh Nho Bang, vice chairman of the Gold Business Association, attributes the rising demand for gold to the fact that the recent winners in the stock market are looking to put their profits into more stable and reliable investments, or are simply speculating, at a time when the stock market and the banks are losing their allure.
Related links: