Small and medium-sized enterprises should be prioritized for the Government's estimated US$6-billion stimulus package since this sector can create many jobs and stimulate demand, economists have said.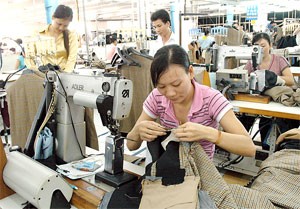 A Nha Be Garment company factory in HCMC. (Photo: SGGP)
Speaking at a seminar to discuss the package in Ho Chi Minh City yesterday, Vu Thanh Tu Anh, director of research at Fulbright Economics Teaching Program, said, "Looking at the economy, we can see that SMEs employ the largest workforce and create much value addition for the country."

He said demand would rise when employees have jobs and stable incomes.

"So, this should be one of the top priorities for the stimulus package," he told the media after the seminar.

Dr.Nguyen Duc Thanh said labor-intensive industries that use capital effectively include food, consumer goods, and feedstock.

Investment in these industries would stimulate the economy and create jobs, he added.

But Dr.Tran Dinh Thien warned that not all labor-intensive sectors should be prioritized, only effective ones.

For instance, he said, the textile and garment industry offers plenty of jobs but is now in the doldrums due to the global recession, and so it would not do to invest in this industry.

Mr.Anh said since the country aims to reduce the trade gap the investment should not be in industries that require imported materials.

Many economists voiced concern about earmarking money for State-owned enterprises (SOEs).

Dr.Le Dang Doanh said though SOEs account for 40 percent of gross domestic product, they employ just 6 percent of the workforce.

Therefore, private SMEs and craft villages should be targeted, not SOEs.

Government statistics show there are 350,000 SMEs in the country, with up to 60 percent of them struggling to survive the high inflation and borrowing rates of the last few months and the impact of the global economic slump.

The delegates called the stimulus package just a "band-aid solution," adding long-term measures like administrative reforms and attracting investment are essential.

Economist Phan Chanh Duong said SOEs need to cut superfluous public spending to reduce costs and enhance their competitiveness.

The conference was organized by Sai Gon Thiep Thi newspaper and the Center for Economic and Policy Research belonging to the Ha Noi-based University of Economics.