Deputy Prime Minister Vu Van Ninh has announced that leaders of ministries and ministerial level agencies, organs directly under the Government, chairmen of province and city people's committees and chairmen of economic groups must fulfill their state-own enterprises (SOEs) restructuring tasks or will be seriously handled.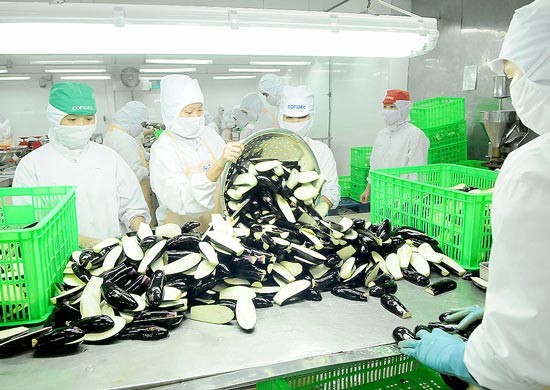 Workers process eggplants for exports at Cofidec Company (Photo: SGGP)
In an announcement released by the Government Office, Deputy Prime Minister Ninh instructed them to more drastically reform SOEs especially equitization and state-capital withdrawal in the phase of 2014-2015.
They should closely work together to solve difficulties and issues arising from the restructuring process.
The Steering Committee for Enterprise Reform and Development should work with the Ministry of Finance to intensify inspection and supervision over local and central agencies as well as state own groups and corporations while implementing the policy.
Mr. Ninh noted that after equitization, businesses must list on the stock market. Those selling shares far less than expectations in Initial Public Offerings must continue offering the shares for sale.
Related ministries and agencies and SOEs should map out a suitable route to withdraw the capital that they have invested out of their fields for the best effectiveness.
Basing on norms set by the Government, they have to submit the Prime Minister the list of enterprises that should be equitized or withdraw capital in 2015 by  the year's first quarter, and complete an overall project to restructure SOEs in the phase of 2016-2020 by the third quarter next year at the latest.
The Government has set a plan to reform 479 state-own enterprises (SOEs) in the phase of 2014-2015 with 432 enterprises to be equitized, 22 to be dissolved or to go bankrupt and 25 to be merged.
Last year only 167 businesses have been restructured. Of these 143 companies were equitized including the Vietnam National Textile and Garment Group and 16 corporations, one was changed into a limited liability company with at least two members, three were dissolved, 14 were merged, and three companies were proposed to go bankrupt.
The number of restructured companies increased 1.65 times while the number of equitized companies was double over 2013.
The Government withdrew VND6,076 billion (US$284.66 million) state capital from 233 businesses yielding VND8,002 billion (US$374.89 million), six-time higher than that in the previous year.