The European Union cannot apply its Generalized System of Preferences to Viet Nam permanently, because it is against the regional body's laws on discrimination, a senior EU official said yesterday.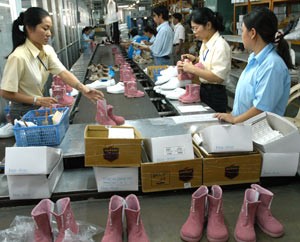 Vietnamese leather industry may face a new challenge when EC will abolish Generalized System of Preferences for Viet Nam leather shoes.
Joao Aguiar Machado, Deputy Director General for External Relations of the European Commission, said that the EU has to treat all developing countries equally.
Machado is heading the EU delegation in negotiations with Vietnam and the European Union (EU) on the framework for a Partnership and Cooperation Agreement (PCA).
He was speaking to the press in Ha Noi after the second round of negotiations held between Viet Nam and the EU on the framework Partnership and Cooperation Agreement (PCA).
PCA is a comprehensive agreement on bilateral and multilateral cooperation ranging from politics, economics, trade, investment, justice, culture, education, science-technology, healthcare, agriculture, tourism, energy and traffic to environment.
The application of GSP for Viet Nam was one of the main topics of discussion during the second round of negotiations.
Although the EU could not accede to Viet Nam's request regarding the
GSP, Machado said he was pleased with the second round of negotiations.
The EU is committed to assisting Vietnam narrow the development gap, reduce poverty and promote sustainable development, he said.