The People's Committee in Ha Tinh Province permitted Viet-Laos Vung Ang Port Company to establish a project and call on investment to build the third wharf at Vung Ang Port in Vung Ang Economic Zone, Ky Anh District.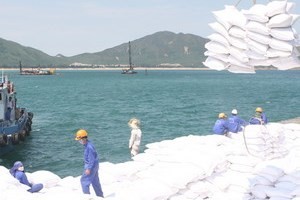 Cargo being loaded in Vung Ang Port (File photo: VNA)
The wharf construction aims to clear congestion due to increasing cargo volumes, which have regularly overloaded the port.
Cargo passing through Vung Ang Port has highly increased after three years since the port came into operation in June 2011.
The highest increase was recorded in 2013, when the port received 2.7 million tons of goods, double its design capacity.
The number is expected to exceed 3.5 million tons in 2015 and reach 7 million tons in 2015.