Ho Chi Minh City-based companies have invested or plan to invest VND22.23 trillion ($1.3 billion) in 54 projects in Nghe An, officials said at a conference held to review five years of cooperation between the city and the central province.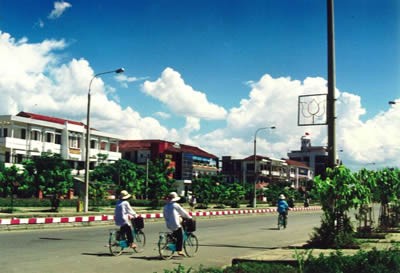 A view of Le Loi Street in Vinh, Nghe An Province. HCMC firms are increasingly investing in Nghe An, a cooperation program that is benefiting both sides, according to officials. (Photo: vinhcity.gov.vn)
Reports from the city Department of Planning and Investment and Nghe An authorities at the conference in HCMC on December 29 said the program has achieved good results.
More and more HCMC investors are taking stock of Nghe An and investing in the province, it said.
Of the 54 projects, 12, with a total investment of VND1.72 trillion ($99 million), are up and running. They include the Cua Lo dairy plant, an export wood processing factory, a pressed wood products processing factory, an export limestone factory, a trade center and Cua Lo hotel.
These have created around 1,800 jobs.
A further 19 projects involving total capital of VND6.1 trillion ($355 million) are under way. These include Thanh An hospital, Sai Gon eye hospital, Vinh Tan new urban area, Bai Lu eco-urban area, and Sabeco packaging.
Projects worth VND14.37 trillion ($823million) are having either feasibility studies or paperwork being carried out at the moment.
Speaking at the conference, Nguyen The Trung, the province's Party Committee secretary and People's Council chairman, said the investments by HCMC enterprises have contributed to Nghe An's growth.
But he admitted the province faces a lot of difficulties. Since its infrastructure and services are not well developed, enterprises have to bear high transportation costs, he said.
HCMC Party Committee secretary Le Thanh Hai said the cooperation is based on the mutual interest.
The program has achieved good results because authorities in both places have worked together to resolve problems.
HCMC would continue to encourage its enterprises to invest in Nghe An, he said, but added that the province should assist them with administrative formalities.