Ho Chi Minh City People's Committee Chairman Le Hoang Quan on June 24 worked with electronic and garment and textile companies on development of support industry.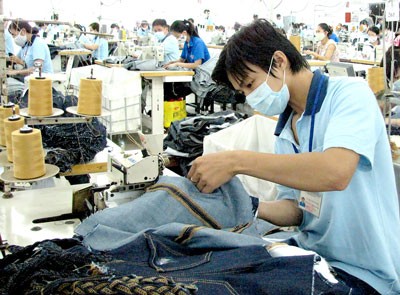 Gia Dinh Textile and Garment Company (Photo: SGGP)
The companies include FPT Company and some electronic enterprises and Indira Gandhi Export - Import Trading Production Joint Stock under Gia Dinh Textile and Garment Corporation.
At the meeting, electronic companies shared some difficulties including high tariff, which is imposed 10-20 percent on components for production of machines. The rate is only 0 percent to import the machines.
HCMC will do its best to help them solve difficulties and propose the Government to have assistant policies, Mr. Quan said.
The garment and textile sector is a key economic industry and it contributed 23 percent of the city's export turnover in 2013, said Quan.
HCMC will create incentives so that businesses can further investment in the support industry and set up a material supply chain for garment and textile production and exports, Quan added.
The city has approved an Indira Gandhi Company's proposal, which the company will cooperate with a Japanese group to develop into a small industrial zone producing materials for the garment and textile industry.
A fibre plant project worth VND399 billion (US$18.45 million) of Gia Dinh Garment and Textile Company has also been approved.
Companies should intensify localization and reduce reliance on import materials and components to suit the new situation, chairman Quan concluded. He also tasked agencies to build a strategy on development of the support industry.