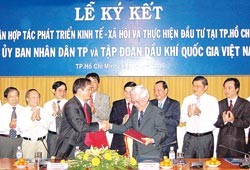 HCMC chairman Le Hoang Quan (R) and Chairman of the Director Board of Petrovietnam Dinh La Thang shake hands at the signing ceremony.
The National Oil and Gas Group (Petro Vietnam) and the Ho Chi Minh City People's Committee yesterday signed a cooperation agreement, under which the city will create favorable conditions for the group to invest in major projects.
State President Nguyen Minh Triet and the Ho Chi Minh city's Party Committee Chief Le Thanh Hai attended and witnessed the signing ceremony.
Under the agreement, Petro Viet Nam will give priority to invest in the city's major projects including urban areas and infrastructure development.
Besides, the Group will cooperate with HCMC enterprises to invest in supplying liquefied petroleum gas for thermo-electric plants, transport vehicles with international standards. The Group said it will also engage in the stock market, the insurance and real estate markets.
Both the sides agreed that the cooperation is a long-term strategic plan in a bid to fasten the city's industrialization and modernization process and promote the development of Petro Vietnam in the context of Viet Nam's integration into the World Trade Organization.
Addressing the ceremony, Ho Chi Minh City's chairman Le Hoang Quan said the city and Petro Viet Nam will hold annual meeting to summarize the results, discuss the difficulties and add more works.
"This is the first cooperative model between the city and a big economic group of Viet Nam. I believe that the success of the cooperation will make a precedent for Ho Chi Minh City to continue development and cooperate with other big corporations nationwide," he said.