Ho Chi Minh City People's Committee Deputy Chairman Le Manh Ha has tasked the Department of Information and Communications to determine main products of the electronic industry and build a plan as well as assistance policies to develop it after electronic industry businesses had been reported weak results in the city.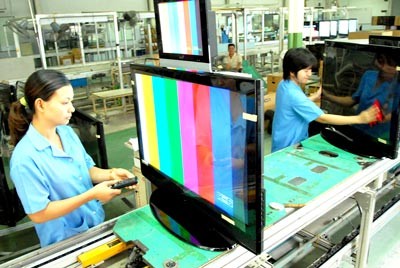 TV production at VTB Company (Photo: SGGP)
Saigon Hi-Tech Park has 30 valid electronic projects with a total registered capital of US$1.74 billion. Of these 16 are foreign invested projects with a total capital of US$1.43 billion.
Industrial and export processing zones have 44 electronic projects with the total registered capital of US$1.29 billion. Of these up to 30 projects are of foreign companies with capital amounting to US$1.21 billion.
None of local companies scattered in districts are still operating now. Few businesses manufacturing karaoke rigs earlier have almost shut down.
Since 2011 foreign businesses has occupied 90 percent of the electronic industry's revenue, which rocketed to 91.26 percent in 2014.
The export turnover of hi-tech products such as computers, electronic components and items, and digital products has posted high growth rate and they have become the main export items of HCMC.
In 2013, the turnover reached nearly US$3 billion, an increase of 14.3 percent over the same period in the previous year and accounting for 14.8 percent of the city's export turnover.
However it dropped down in 2014 when foreign invested companies, the main driver of electronic export turnover, reduced their capacity at the Saigon Hi-Tech Park.
HCMC electronic market had long been left to imported products' discretion before large foreign giants entered Vietnam and gradually controlled the market.
Domestic brand names such as VTB and FPT elead have faced fierce competition and struggled to stand firm in the market.
Deputy Director of HCMC Department of Information and Communications Le Quoc Cuong said that most local businesses are of small and medium scales with manual labor skills and low productivity. Local brand names have yet to receive customer confidence and only few of them have able to make high-value products.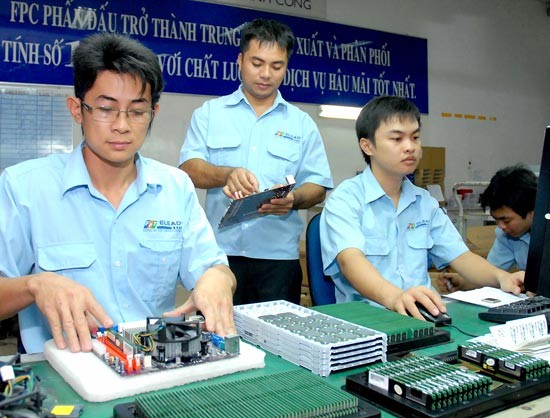 Vietnamese electronic companies struggle to stand firm in local market (Photo: SGGP)
They have also met with difficulties in accessing loans and market information to broaden their production scale, improve technologies and invest in product research, he added.
Support industry in electronic field has slowly developed resulting in low localization rate and added value of locally made products.
Vietnamese manufacturers are dependant on import material sources from China, Taiwain (China), Thailand, Singapore, Japan, Malaysia and the US causing high production costs.
Electronic products have been more and more popular in the market, it is costlier to import components for domestic assembly than import complete built items, forcing several local businesses to dissolve.
HCMC has been left behind in electronic development, said experts.