Ho Chi Minh City Party Committee Secretary Le Thanh Hai has instructed the city People's Committee to quickly build an investment stimulation program, continue administrative procedure reformation and support businesses with utmost assistances to develop the poorly developing support industry.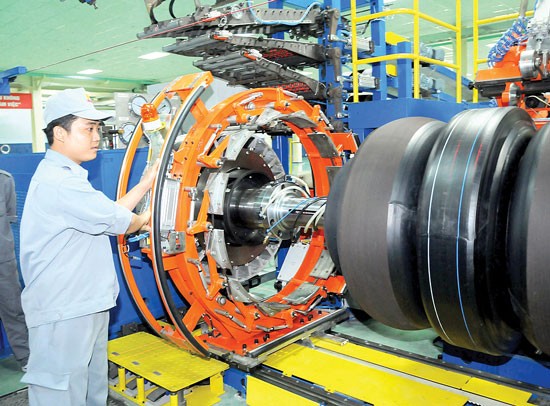 Automobile tire production at Casumina Company in HCMC (Photo: SGGP)
Mr. Hai made the statement while chairing a seminar hosted by the HCMC Steering Board for Support Industry Development on Tuesday, where most delegates said that Vietnam's support industry has been weak and outdated.
Deputy Chairman of HCMC Mechanics Association Do Phuoc Tong said that support industry products of local mechanical companies have low and unsteady quality.
The number of mechanics is unstable at companies, graduates from vocational schools or colleges have to be retrained before they can start working. However after being trained and having working experiences, these mechanics usually quit and move to foreign invested enterprises and labor export companies for higher salary.
Many small mechanical companies do not have a quality management system or have but do not seriously follow the system's production process resulting in discontinuous quality control.
Input materials are mainly imported, most small and medium enterprises use secondhand machines causing low productivity. Purchasing new machines requires large capital while many have been unable meet mortgage requirements for bank loans, said Mr. Tong.
Director General of Saigon Transportation Mechanical Corporation Tran Quoc Toan added that the output of local support industry products is low while price is higher than imported items. Businesses lack of connectivity to develop the support industry.
Sharing the same view director general of Saigon Industrial Corporation Chu Tien Dung said that the support industry is weak forcing businesses to import materials for domestic production, resulting in higher cost prices and low competitiveness.
On the other hand, limited human resource level and technologies cause domestic products' quality fail to meet international standards, he added.
Other experts said that in fact most support industry businesses have been unable to access Government's assistance policies. Domestic loan interest rate is too higher compared to that in nations with developed support industry, causing locally made products unable to compete with import goods.
Administrative procedures are complicated discouraging businesses to broaden investment in the support industry. Hence they just import materials for local assembly.
Dr. Huynh Thanh Dien proposed HCMC to have policies providing small and medium enterprises with assistances from capital, technology to space to develop the support industry.
Principal of the HCMC Open University Nguyen Van Phuc said that support industry businesses need supports in export and import tariffs, business income taxes, and loan interest rates. Besides the Government should offer land incentives to establish and develop support industry zones and clusters.
In response, HCMC Party Committee Secretary Le Thanh Hai said that the above opinions will be synthesized in a document to debate at future congresses of the city Party Committee.