The majority of enterprises and business associations said the business environment will be better in 2015, Vu Tien Loc, Director of the Vietnam Chamber of Commerce and Industry (VCCI) told at a year-end meeting of southern associations and businesses.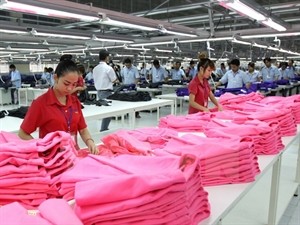 A garment production line (Photo: VNA)
Loc asserted that the Government's efforts in maintaining the macro-economic stability and reining in inflation have proved efficiency, enhancing business confidence and helping enterprises better design their production strategies to overcome difficulties.
However, experts warned that Vietnamese firms still face competitiveness, while private companies, especially small and medium-sized enterprises are still difficult.
Dang Hoang Giang, Vice President and Secretary General of the Vietnam Cashew Association, said businesses share hope that in 2015, the Government will continue rolling out effective measures to remove obstacles in tax and customs policies.
They also expect further favourable investment environment and more support in settling trade disputes to better protect legitimate rights of Vietnamese firms and goods in the international arena.
Meanwhile, Nguyen Thi Anh Thu from the Ho Chi Minh City Mechanics Association proposed stressed that enterprises are in need of a fair and equal playground, as well as consultations on how to improve competitiveness for global integration.
At the same time, Huynh Van Minh, Chairman of the Ho Chi Minh Business Association, proposed that associations and firms should evaluate both economic prospects and challenges for 2015, thus mapping out suitable development strategies.
Minh also held that the business circle should increase feedbacks to policies to promote their efficiency.
The VCCI leader noted that since the Vietnam Enterprise Law was introduced, over 700,000 firms have been set up. However, only 500,000 companies maintain their operations, with 40 percent seeing profit.