Companies in the Saigon Hi-Tech Park are in high demand of domestically made support components however local firms have been unable to meet the demand.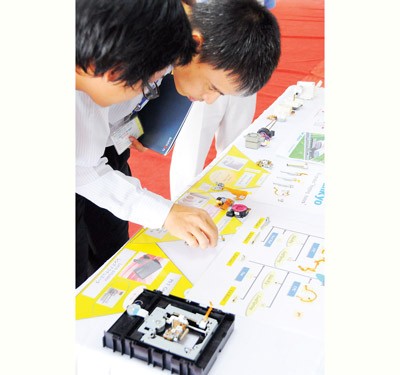 Export companies pay much attention to domestic components and machines (Photo: SGGP)
Domestic firms can supply simple components like packing and plastic trays while complex parts of machines which require high accuracy are severely short, said Le Bich Loan, deputy head of the park. 
The US Intel Group built their largest chip plant worth US$1 billion in the park in 2010. Domestic firms provide only 10 percent of the plant's component demand in 2013. 
The number of Vietnamese companies able to meet Intel's requirements is too limited, said its representative. 
According to a survey of Japan External Trade Organization (JETRO), domestic suppliers can supply less than 32 percent of support components for companies from Japan who is the largest foreign investor in Vietnam in 2013. 
The country's Foreign Direct Investment reached US$22.4 billion last year and Japan firms account for 26 percent with 500 projects, JETRO CEO Osato Kazuhiko said. 
Businesses have spent much on import components and devices in the country's major export industries in recent years. 
Imported components occupy up to 58 percent of export value of electronic products, computers and phones, equivalent to US$40 billion. Of this number, phone component import approximates $20 billion. 
The Government has provided preferential policies to develop the support industry however they are not enough and ineffective. 
High interest rates of 8-15 percent have affected the competitiveness of domestic companies in this field, who are in small and medium scales, said Tran Tien Phat, CEO of Datalogic Vietnam.